Student Research
Here you will find a showcase of students' successes in the EBAYS program.
Another measure of the efficacy of the EBAYS program is the output of its participants. Over the past several years, EBAYS students have been involved in several research projects that have generated valuable information related to currently relevant environmental issues.
Youth research led to the identification of 70 homes in Washington, D.C. area where drinking water lead concentrations exceeded the US EPA mandated 15 ppb action level.
EBAYS student scientists have identified areas of poor air and water quality in and around Oakland, California.
Teen participants in EBAYS have presented over twenty-five posters at professional scientific conferences (including AGU's BrightSTARS program) and published abstracts that describe their work.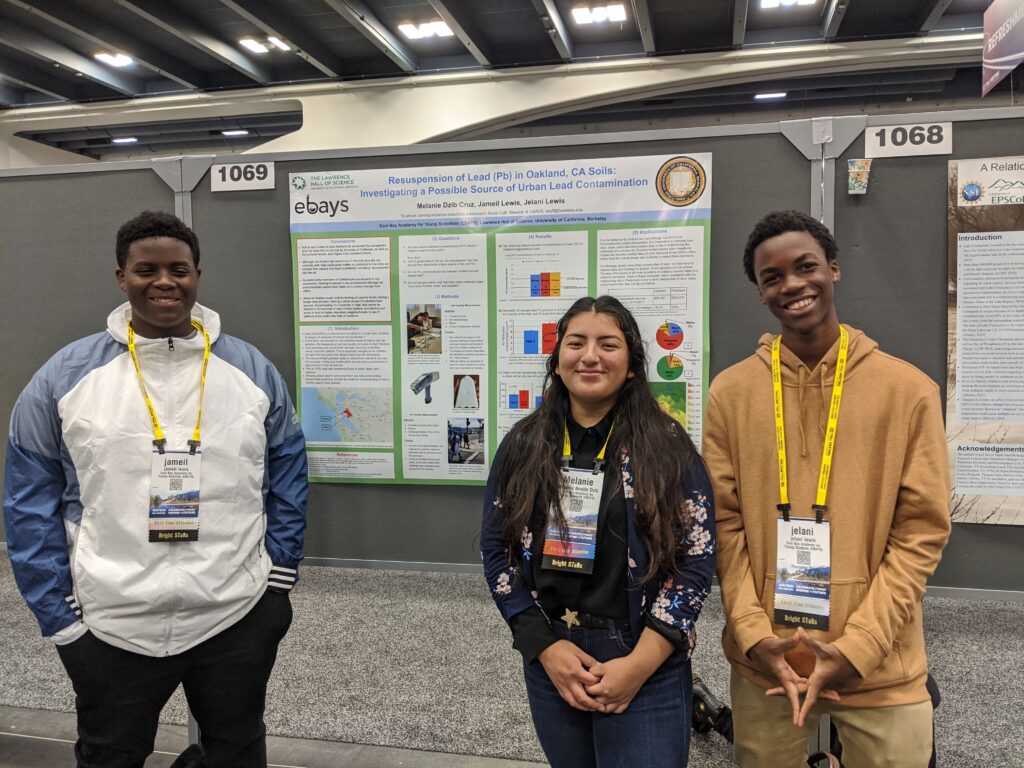 Check Out Student Projects Below!
2023
EBAYS participant Pearl Werbach publishes an investigation into heavy metal contamination, income level, and institutional policies.
2022
On October 27, 2022, a group of EBAYS youth presented the findings of their environmental quality research to the Alameda County Joint Powers Authority Board of Directors, which is comprised of representatives from City Councils of each Alameda County city, the Alameda County Board of Supervisors, and the Alameda County Lead Poisoning Prevention Program.
Research and communication by United For Success Academy 6th graders and members of Frontline Catalysts
Research and communication by teens in Flint, Michigan.
2020
American Geophysical Union, 2020. Research by: Allison McCabe, Arjun Krishnan, Arnav Kushwah, Gunit Kaur, Julia Schweitzer, Laura Boifort, Raphael Barboza, Riya Puvvada, Sarah Park, and Yi Luo
2019
American Geophysical Union, 2019. Research by: Melanie Dzib Cruz, Jameil Lewis, Jelani Lewis
2014
EOS, Transactions, American Geophysical Union, 2014 Dec. Research by: Elliot Ahumada, Esosa Oghogho, Samantha Nguyen, Humberto Bracho, Diego Quintero, Ashanti Johnson and Kevin Cuff

EOS, Transactions, American Geophysical Union, 2014 Dec. Research by: Allan Ahumada, Aminah Butler, Mellany Davis, Yarely Guzman, Micah Johnson, Xochitl Ponce, Kim Zhen
2013
EOS, Transactions, American Geophysical Union, 2013 Dec. Research by: Alan Ahumada, Eliott Ahumada, Miguel Avila, Humberto Bracho, Adrian Lopez, Esosa Oghogho, Laura P_rez, Xochitl Ponce, Diego Quintero, Noe Varela, Ashanti Johnson

EOS, Transactions, American Geophysical Union, 2013 Dec. Research by: Unique Cheon, Naudika Williams, Mikey Quintana, Jesse Thompson, Reginald Quartey, Amri Gray, Qi Ma, Chunyan Lin, Daisy Yee, and Nishant Biswas
2012
EOS, Transactions, American Geophysical Union, 2012 Dec. Research by: Philmon Lei, Jasmine Jackson, Damaris Romero, DeVondre Spears, David Weissman
2011
EOS, Transactions, American Geophysical Union, 2011 Dec. Research by: Samuel Delfín-Polk, Derrick Bailey, Kasandra Johnson, Cassandra Martin, Alex Vieira, and Tony Marks-Block

EOS, Transactions, American Geophysical Union, 2011 Dec. Research by: Regina Chagolla, Chasiti Crockett, Jessica Diaz, Gabriel Dixon, Philmon Lei, Andrea Gonzalez Negrete, and Manaiya Scott

EOS, Transactions, American Geophysical Union, 2011 Dec. Research by: Eliott Ahumada, Miguel Avila, Humberto Bracho, Alvaro P. Casanova, Osbaldo Cruz, Ana Gonzalez, Yvonne Leon, Edgar Sanchez, and Andrea Torres
---
View the Student Research Archive >